This Panasonic BR-2/3AGCT4A-3pcs Battery has a capacity of 2400mAh and a voltage of 6v. Suitable for Panasonic FANUC A98L-0031-0025. 100% compatible and 100% safe. 1-year warranty, 30-day money back guarantee.

Panasonic BR-2/3AGCT4A-3pcs 2400mAh 6v Economic battery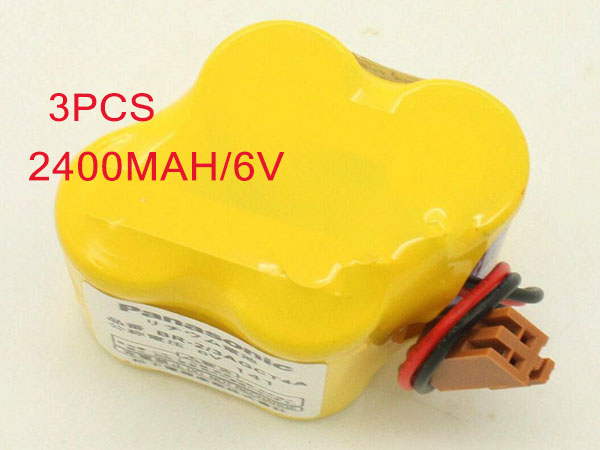 (product code: BR-2/3AGCT4A-3pcs)



(Usually ships the same business day!)
Product details:


Brand: Panasonic BR-2/3AGCT4A-3pcs Economic batteries

Type: Lithium battery

Voltage: 6v

Capacity: 2400mAh

SKU: ECN10670_Plc_Oth
Replace the following batteries:

A06B-6114-K504 A06B6114K504 A98L-0031-0025 A98L00310025 BR-2/3AGCT4A BR2/3AGCT4A Fanuc 18-T series Fanuc ALPHA iSV Fanuc BETA iSV Fanuc BETA iSVSP CNC system amplifiers
Compatible with the following models:

4x 2/3A
Wire Leads Connector
Memory back-up
Real-time clocks
Utility metering
Automated Meter Reading
Wireless alarms and Security devices
Emergency locations transmitters beacon
This is 4 cell lithium battery designed for PLC
Low self-discharge rate gives this cell a 10 year shelf life.
Stable voltage and broad temperature range (-40??to +85??).
High energy, high reliability for memory backup applications.
This is non-rechargeable battery,please don't charged it.
you will get 3pcs battery

If you cannot find what you need, we have some sister stores. Here we go!














http://www.notebookbattery.co.nz/laptop-batteies-panasonic/replace-battery-br-2/3agct4a-3pcs-b179961.htm



ABOUT US

Wholesale and retail Notebook Battery in NZ. Replacement for Acer, Apple, Compaq, Dell, FUJITSU, IBM,Lenovo,Sony and so on.
These may be you want to look for :

B_18/1.6 battery replace for Hilti B 18/1.6 Ah Li-ion Battery Pack 18+ Volt

C32N1305 battery replace for ASUS Zenbook Infinity UX301LA Ultrabook

SQU-1406 battery replace for ThundeRobot 911-E1 911-T2A 911-S2B 911-T1

S208A battery replace for CUBOT S208A S208 A

58-000151 battery replace for Amazon Kindle 7 7th Gen 6 Model WP63GW 58-000083