HDD Hard Drive Cable for Apple MacBook Pro Unibody 13inch A1278 2012 md101 102 821-1480-A
Compatible models:
Macbook Pro A1278 Mid 2012 Hard Drive Cable 821-1480-A
Compatible Model No:
MC700 MC723 MD313 MD314 MD101 MD102
Compatible Subfamily:
MacBook Pro "Core i5" 2.5 13" Mid-2012
MacBook Pro "Core i7" 2.9 13" Mid-2012
Package include:
1X Hard Disk Drive Cable 821-1480-A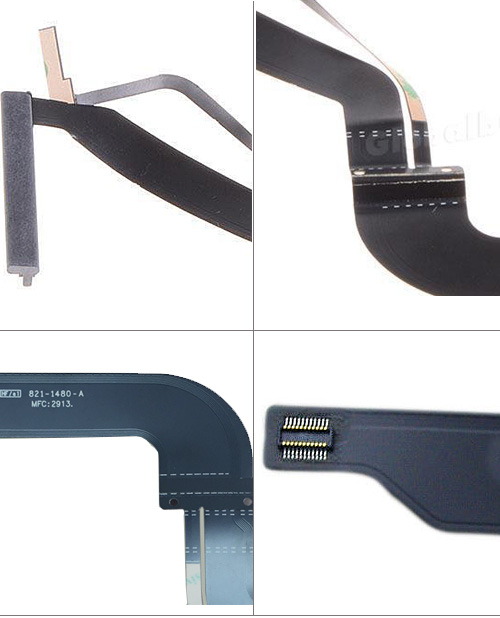 Worldwide free shipping for electronics &tools. Buy digital electronics or cheap electronics from dealextreme, enjoying great price and satisfied customer service.
WHY CHOOSE US?
Over 3,000 products
Extremely low prices
Timely refunds and replacements
Worldwide free shipping
Hand Spinner Tri Fidget Finger Fingertip Gyro Steel Ball Desk Toy EDC Kids Adult, Fidget Finger Fingertip Gyro Desk Focus Toy EDC Kids Adult, Rainbow Color EDC Hand Spinner Fidget Finger Fingertip Gyro Kids Adult Focus Toy, Tri Fidget Finger Fingertip Gyro Desk Toy EDC Kids Adult,
Notebookbattery.co.nz is quite a big site for selling laptop batteries,laptop AC adapters and cheap electronic products online.
Low Prices Guarantee - Your best source for batteries and adapters. We are a new lithium battery manufacturer,Wholesaler and distributor of notebook computer batteries &AC adapter. Factory-direct price!
High Quality Guarantee - The batteries and adapters are rigorously tested for voltage, capacity, compatibility and safety to exceed original equipment manufacturer's specifications . The cheap batteries meet or exceed the original batteries.
Secure Shopping Guarantee- Shopping is easy and 100% secure. We value your privacy and keep your order and personal information safe. We never share or rent our customer's data. Click the "Add to cart" button to order what you need easily.
Wholesale and retail laptop adapter in NZ. Replacement for Acer,Apple, Compaq,Dell, FUJITSU, IBM,Lenovo,Sony and so on.
View more laptop adapter. Contact with us if any problem on selecting power adapter.
These may be you want to look for :
MSI ADP-180NB Adapter for MSI GT70 2PC-1043US
Asus PA-1650-78 Adapter for Asus X550LB-NH52 R33030 N17908EXA1208UH EXA1208EH
Toshiba 90W Adapter for Toshiba Laptop Sattelite L300D
ASUS 65W Adapter for ASUS X553 X553MA-XX074H X553MA-DB01 15.6inch Touchscreen charger
Acer A13-045N2A Adapter for ACER Aspire ES1-411-C3W3 ES1-512-C8JU