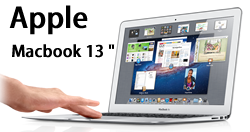 If you have an iPod, iPhone, or iPad, you're already taking advantage of all that flash storage has to offer: reliability, speed, and efficiency. So the decision to use flash storage in an ultracompact notebook like MacBook Air makes perfect sense.
The 13.3" MacBook Air Notebook Computer from Apple is an extremely portable, stunningly designed laptop computer. Apple's engineers have leveraged the lessons they learned in designing the miniaturized iPad and applied them to the design of this 2.9-pound computer.
Flash storage doesn't just give you a lighter, thinner computer. It also allows for impressive MacBook Air 13 inch battery life -- up to 7 hours of web browsing and an amazing 30 days of standby time!
If you looked inside MacBook Air, you'd see something remarkable: how much space was devoted to the battery. Apple engineers were able to fit all the computer components on one of our smallest logic boards ever. Removing the flash storage enclosure and placing the flash chips on the logic board freed up even more room. And voila: space for a bigger battery. So you can get up to 7 hours of battery life on this 13.3" MacBook Air. And when you put MacBook Air to sleep for more than an hour, it enters what's called standby mode. So you can come back to MacBook Air a day, a week -- even up to an entire month later -- and it wakes in an instant. Time is on your side, courtesy of MacBook Air.