100-240V??2.5A 50-60Hz (for w 19.5V 10.26A, 200W, SONY ADP-200HR, adapter 1 year warranty, 30 days money back, 100% new. 30% off all products! Warranty: 12 months! Short circuit protection Meets the environment according to RoHS European Standards. All our products are certified to CE Certificate CE Approval Certificate - Approved Safety.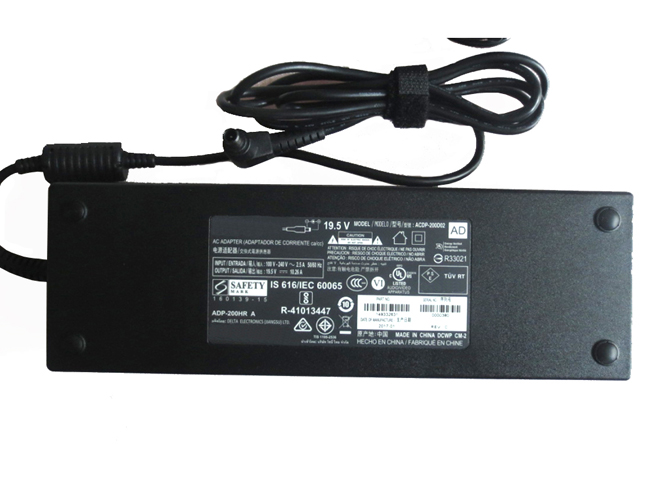 SONY ADP-200HR A AC Power Adapter Charger
AC Input:100-240V??2.5A 50-60Hz (for w
DC Output: 19.5V 10.26A, 200W
ADP-200HR A Power Adapter
Adapter Part Numbers:
ACDP-200D02 ADP-200HR A
Adapter Fit Models:
SONY LCD TV
Here,buy it now
NL:SONY ADP-200HR AC adapter
JP:SONY ADP-200HR
DE:ADP-200HR Notebook-Netzteile.Das richtige SONY Laptop Netzteil finden.
We ship to the Laptop adapter around Globe [USA, Canada, UK, NZ and Ireland, Australia]. View more laptop adapter. Contact with us if any problem on selecting power adapter.
Quality: Quality is our number one priority! All SONY ADP-200HR adapters are New! Our own quality assurance ensures a high quality standard. All SONY ADP-200HR laptop power adapters are 100% compatible with the original product, in most cases our batteries have even more powerful performance than the original product thanks to the advanced technologies and cell standards.
Safety: Safety is a key feature of our products. Our own safety controls guarantee the highest level of safety standards.
Guaranty: All SONY ADP-200HR products have a warranty of at least 1 year. For many products, e.g. SONY ADP-200HR adapter, we are so confident of the quality so outstanding, due to excessive loads, can not work. In case of doubt please contact us. The statutory warranty period remains unaffected.We will be happy to answer all your questions about their respective products and all other warranties.
Power Adapter Fast Shipping
Adapter for ADM-9019M Getac NZ
Adapter for DA65NS4-00 Dell NZ
Adapter for AD-3014STN Samsung NZ
Adapter for S93-0404250-D04 CLEVO NZ
Wholesale and retail laptop adapter in NZ. Replacement for Acer,Apple, Compaq,Dell, FUJITSU, IBM,Lenovo,Sony and so on.
These may be you want to look for :
ENP-2320 for 250W ATX Enhance ENP-2320A Power Supply ,
250W for Acbel PC 8046 PC8046 PC8044 ,
2TXYM for PSU DELL OPTIP 390 790 960 990 ,
503376-001 for HP Pro 6000 6005 6200 Elite 8000 8100 8200 SFF ,
403777-001 for HP DC7600 Ultra-slim DPS-200PB-161 DPS-200PB-163 ,